Digital CirCOOL - The Aluminium Cycle
Online Summer School at Montanuniversität Leoben, 12-16 July 2021


CirCOOL – the international summer school program at Montanuniversität Leoben aims to create awareness of the circularity of materials within the circular economy, which our society is based on and which need to be managed carefully.
As part of the European university EURECA-PRO we would like to invite students of the participating universities to be part of this year's programme:
Digital CirCOOL – The Aluminium Cycle
12-16 July 2021
The program intends to enable students to see the bigger scope of their specific educational field and what it can contribute to the whole material circle. CirCOOL is arranged in a modular structure, which mirrors the various major steps of the value life cycle – this year especially focusing on Aluminium – it's extraction, processing and recycling.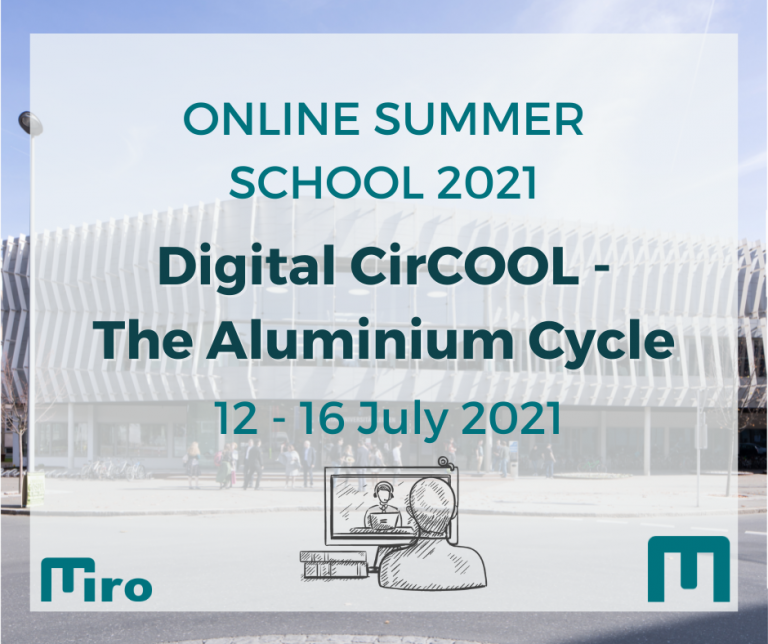 Online expert lectures are completed with virtual fieldtrips, a virtual campus- and city tour through Leoben, as well as a "German crash course". Each participant will be sent a goodie package as souvenir.
Course Overview:
2 ECTS
20 participants
Registration deadline for EURECA-PRO students: Thursday, 1 July, 12am CET
Preparation days: 7-11 July 2021, flexible
Online classes: 12-16 July 2021, 10am-4pm CET
Full-Time online course/self-study and preparation
Program fee: 250 EUR*
*EURECA-PRO offers 7 waived spots for students of the participating universities.
Find the more details about the program on website: https://international.unileoben.ac.at/en/welcome-to-leoben/summer-schools-at-mul
The application form, information brochure as well as the program overview can be found here.
If you have any questions, please do not hesitate to contact the CirCOOL organizational team via international@unileoben.ac.at  or anja.zarfl@unileoben.ac.at