Interview with Lisa Pichler, the EURECA-PRO coordinator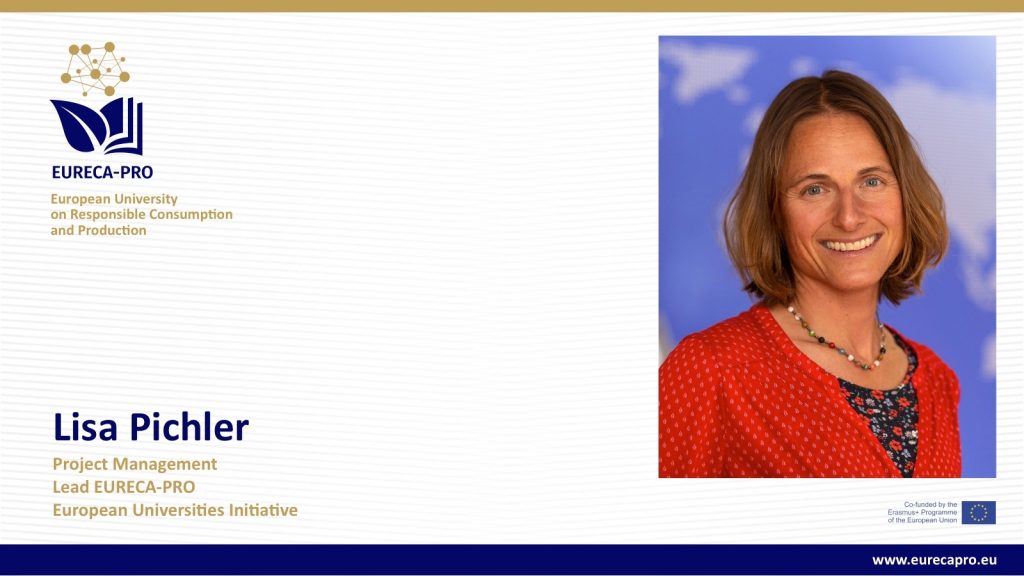 Today it is about celebrating women: beauty, power, the ability to change things. We honor this day by introducing our coordinator, Lisa Pichler, who will be the basic pillar of the EURECA-PRO consortium.
Lisa enthusiastically tells us what the mission, the goals and the prospects of the EURECA-PRO university alliance are.
Read the entire interview with Lisa:


In concrete terms, what is EURECA-PRO?
EURECA-PRO unites 7 European universities, their researchers and students and gives them the possibility to study and do research on responsible consumption and production. The results will benefit society, regionally and as far as EURECA-PRO will reach out- ideally globally.
What is your initial assessment of the first years of the Alliance's existence? What impact has the pandemic on the Alliance?
7 universities spread all over Europe will grow together, their students, their researchers and the administrative staff, having different cultural backgrounds, languages and mindsets.
I see this as a big asset, but also as the main difficulty.  Especially considering the current situation of having COVID-19 as restriction. Meeting only virtually for now is limiting the discussions and the personal touch is missing, many of us would like to sit in one of Germany's nice Biergarten and chat. Regarding the work progress though, Covid is until now not limiting us, we are adhering to our timeline and to see it positively- we are reducing CO2 emissions by not travelling from one place to the other.
What will be your mission within this alliance?
My job is to create a good working atmosphere among all partners, keeping everyone updated and put structure to our different work flows. I also want to be the bounding person between partner universities, I want to find ways if we get stuck somewhere, I want to give room to all the great ideas that are created within our alliance.
What prospects do you see for the future?
Being a member of EURECA-PRO gives us the unique chance to help shaping our planet's future by introducing sustainable and responsible ways of consumption and production. I imagine interdisciplinary research, with motivated students from all our universities, developing fantastic new technologies. And additionally, being part in a pan-European project gives us the chance to feel European and not only citizen of the respective country we are living in.
Why did you choose to be the coordinator of this project?
Responsible consumption and production is highly topical, everyone talks about it but I miss the steps to take. Our alliance will create, will disseminate, will reach a lot of people. I believe EURECA-PRO can change our future world.
And multiculti is what I love. Talking to Romania in the morning, to Spain at lunch time and having a chat with Poland in the afternoon is very exciting.
Tell us something about yourself, what has been your career path?
I studied economics and geography and worked for the German Development Service on the Philippines. Back in Austria and Switzerland I led a company equipping forestry workers with working materials before I got hired by Montanuiversität Leoben.
Being a passionate mountaineer and nature lover I am happy to be able to contribute to environmental well-being.