EURECA-PRO Summer School – Responsible consumption and production for digitised higher education
We invite all students of EURECA-PRO partner universities to apply for our summer school, which will take part in Freiberg, Germany, on-site:
Students from all study cycles will assess the sustainability of different ways of behaving: studying online or in physical presence. You will receive technical and methodological input from representatives of the EURECA-PRO universities and you will work out the sustainability of four scenarios, in small international, interdisciplinary groups.
The summer school is divided into three parts to be completed in two months (3 ECTS). A month before the on-site start of the summer school, participants will complete a self-study on "Responsible Consumption and Production" using recommended literature. You will prepare a short presentation about the relation of your place of study to Sustainable Development Goal 12 (responsible consumption and production). In addition, you will take part in a short course in the national language of the venue (German). For the German speaking students Polish or Spanish languages courses will be offered.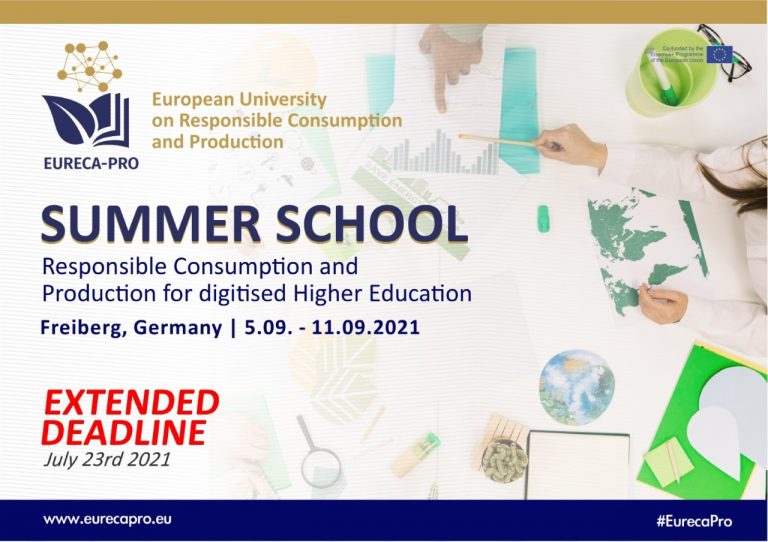 Then a week of learning and working together will take place at Freiberg, Germany, from September 5th to September 11th, 2021. Presentations by scientists and experts will offer you an introduction to sustainability of digitalization and how to assess it.
A supporting programme will enable exchange on European culture among the participants.
The summer school is concluded by the preparation of a group report. Participants work in international and interdisciplinary teams on scenarios about the sustainability of different forms of study: online or on-site.
Please apply with a cover letter, CV and a presentation of your motivation for participating, which can be designed creatively, for example as a video or poster until July 23rd 2021.
EURECA-PRO Summer School application form